My Experience Orlando Florida With RVI
I, with all the members of my family totaling six (6) in number, travelled to Orlando Florida, USA on the 9th/10th October 2014, for a two week Annual Vacation at Sheraton Vistana Resort Hotel under the Reality Vacation Innovation (RVI) <an affiliate of RCI>, time share programme.
Initially I could not believe it or I never know the value of the investment I made with the RVI until I started to enjoy the facility. Right from the visa interview to traveling arrangement and finally accommodation/hotel reservation were handled by RVI. And I never witnessed any stress as the organization made things easy for me and my family. The facilities we used were state of the art facilities that our friends who knew the current value of international services and charges were marveled at the cost of what we enjoyed.
My wife and children were also trilled by the quality of the services and hospitality we received at Sheraton Vistana Resort Hotel. It was indeed, "a Home away from Home". We lived in an apartment as if we were at our own home and cooked and ate what we liked and wanted to eat, where, when and how we wanted them. While there, We visited so many interesting sites and parks, chief amongst them were the four named World Walt Disney Parks, viz : the Magic Kingdom, EPCOT, the Animal Kingdom and The Hollywood Studio; et cetera. We really enjoyed our stay over there. Even while we were there, I was particularly impressed with the concern of the RVI staff down here in Nigeria trying to follow up our stay over there just to make sure that we never have any problems and to ensure that we enjoy our stay there. My family and I  are very grateful all the RVI staff for this.
Based on my experience over there, I now have more confidence to introduce my friends to the RVI facilities.
Thanks for your wonderful services and programme. Please keep it up.
Dr Eric C. IHEKWOABA.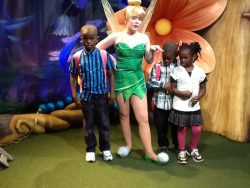 Archive