Kemasuode Wodu and Family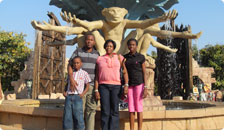 Kemasuode Wodu and Family – Cape Town and Sun City
We had a wonderful time in South Africa during our last vacation in August/September, 2009 courtesy of RVI Port Harcourt. Arrangements were made for a vehicle to pick us up at Cape Town Airport, from where we were taken to Ocean Shores resorts. It was a beautifully furnished two bedroom self catering apartment with all necessary facilities therein.
We stayed there for a week and left for Sun City Vacation Club Resort. In Sun City we also had a wonderfully furnished two bedroom apartment.Sun City is a unique holiday destination with hotels, water parks, man made lakes etc. Transportation within Sun City was completely free for us as there were vehicles to take all residents of the resort to any part of Sun City.
In Sun City we visited a crocodile zoo where we saw some of the world's oldest and largest crocodiles. In Cape Town we visited several places of interest including Cape of Good Hope where the Atlantic and Indian Ocean meet. On the whole, it was a fun filled vacation that we would love to experience again.
Archive