Chief Harold Nwokolo & family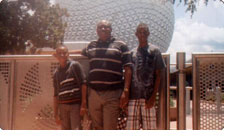 Visited vacation village at parkway with my sons as my wife was unable to come with us on the trip. There were lots of people from all over the world at the resort.
The staff were very courteous, the apartments were superb- fully equipped kitchen, the living room, bedrooms, etc.
We made private arrangement for cabs to take us to the Disney world as the resort had no shuttle to Disney parks.
At Summer bay resort, also in Kissimmee, the accommodation was also superb with modern furnishing. They gave us up to 10 towels and changed our beddings frequently. This resort has a dedicated vehicle that conveys visitors to the Disney world/parks.
At the end of each of visit, the resorts organized a very special dinner/banquet for guests. Couldn't go because my wife wasn't with us but I allowed my kids go to the event selected for the kids. The resorts were very big, a very large place and shuttle services conveyed us around the resorts.
The challenges I had was getting to the resort from the airport there was no airport pick up and as a first timer, I found it difficult to trust anyone but finally had my way. I also noticed that there wasn't any bottled water in the room when we checked in as we couldn't trust the tap water.
Next time, I will acquire a universal driver's license so I can rent a vehicle and drive around. The vacation was indeed worthwhile and the resorts were sparkling clean as a matter of fact, it was HOME AWAY FROM HOME!
Archive