Mr. & Mrs. Emeka Nwanegbo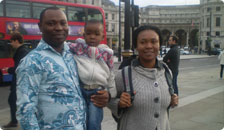 Mr. & Mrs. Emeka Nwanegbo – The Acadmey London
Our holiday in London was great. We missed the summer period due to some reasons but arrived in September.
The weather in September was mixture of sunny and chilly weather. We stayed in a self catering one bedroom apartment at The Academy Resort in Woolwich common, East London.
ThIt was tastefully furnished and decorated with modern interiors. The Staff at the resort was friendly, corporative and always happy to assist.
The resort is located very close to Woolwich Arsenal and the DLR railway station which connects one to any part of London.
We visited so many recreation and shopping centers in Woolwich, central London and West London. Frankly, my family had great fun throughout their stay in London and we were very satisfied and happy to be associated with RVI. However, we believed our investment in RVI was one of our best family decisions.
Archive